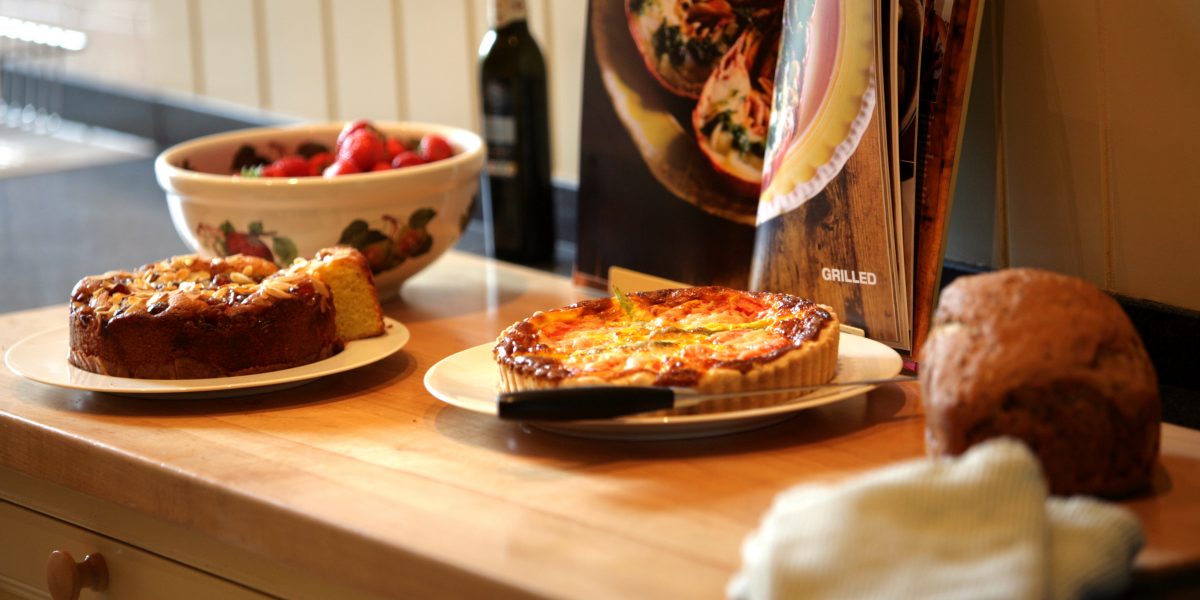 After a long journey the last thing many guests feel like is preparing their own supper or driving out to a restaurant.
So, to make arrival night even more relaxing and stress free, we offer a complete slow cooked hot arrival meal option all ready in the cottage for a time of your choosing.
Trysha is also expanding her very popular arrival meal option so it can be available on Monday and Friday evenings during your stay too – note that any one of these can be made gluten free (please give at least one week's notice, thank you).
Chicken Casserole with Lemon – free range chicken cooked in an onion/lemon sauce. Baby potatoes and seasonal veg in pans on your hob ready to cook – a favourite family recipe.
or
Beef Stew in Red Wine – cooked with half a bottle of decent burgundy, parsnips, carrots, butternut squash, potatoes and fresh herbs etc. The best way to serve this is by ladling big spoonfuls into bowls accompanied by a glass of red wine and some really fresh warmed bread. Chop the lemon zest, rosemary and garlic together and sprinkle over the stew before eating. Just the smallest amount will make the world of difference – as soon as it hits the hot stew it will release the most amazing fragrance.
or
Lamb Shank Balti – curried lamb shanks marinated overnight and slowly cooked with spices, fresh ginger and tomatoes. Pulao rice mixed with cashews, peas, cumin, cloves and turmeric all topped with rose-harissa yoghurt, mango chutney and fresh pomegranate seeds.
or our Vegetarian/Vegan choice
Thai style butternut squash and peanut curry (also can be made with king prawns) – Rich, sweet, spicy and fragrant, the flavouring of this delicious curry really comes together in slow cooking combining kafir lime leaves, sweet potatoes, Thai yellow curry paste, fresh ginger and coconut milk. Served with wholegrain Jasmine rice, red rice and rice berry for a substantial supper dish and garnished with chilli flowers, roasted pumpkin seeds, fresh coriander and lime.
Chicken Korma – organic chicken breasts slow cooked in a myriad of spices, fresh ginger, garlic, ground almonds, tomatoes and creamed coconut. Served with fresh chillis, fresh coriander, slithered roast almonds, mango chutney, poppadoms and rice.
All meals subject to availability. Menu and prices sent to you in the week or so leading up to arrival.

Stay Updated
Receive news and updates directly to your inbox.