Beaches on Northumberland Heritage Coast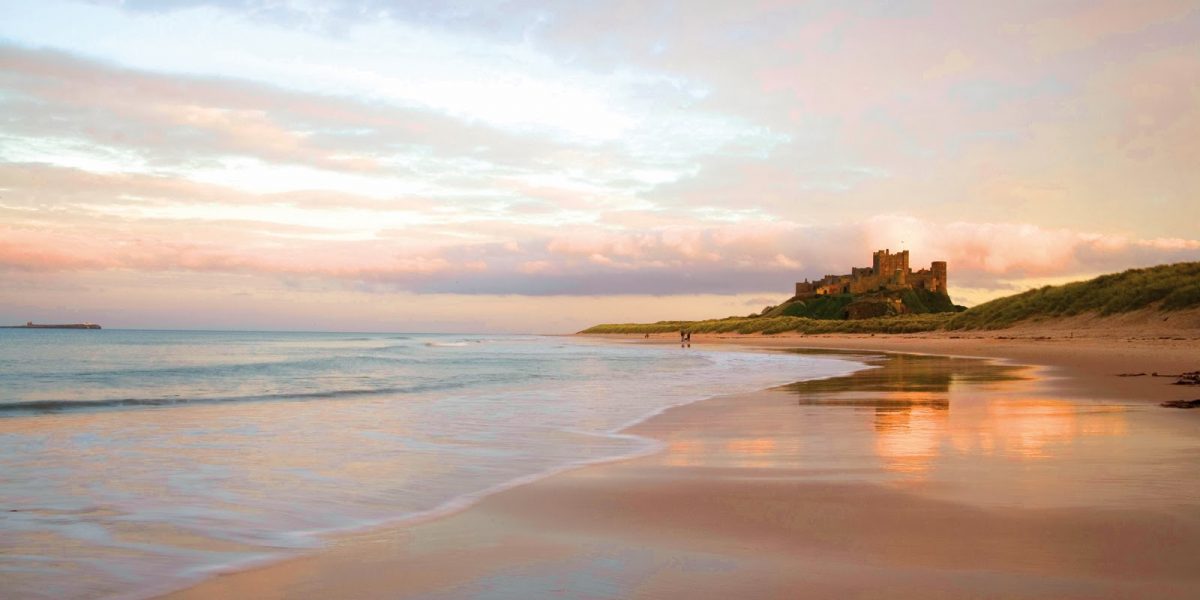 About 30 minutes drive from Ingram, the Northumberland Coastline is exhilarating and includes mile upon mile of unspoilt, almost deserted sandy beaches, punctuated by ancient castles and fortifications.
Much is designated as an Area of Outstanding Natural Beauty. Cheviot Holiday Cottages is ideally situated for coast and country cottage holidays in Northumberland allowing you complete flexibility in your choices of beaches to visit.There are numerous beaches and coves to explore and some of our favourites include from north to south:
The Holy Island Of Lindisfarne
Known as the centre of England's Christian Heritage, it is reached along a causeway cut off twice daily by the North Sea. This unique and beautiful island has a thriving community with picturesque village alongside the striking 16th century Lindisfarne Castle and the ancient ruins of Lindisfarne Priory.
The Links beach on Lindisfarne is an expansive sandy beach and the most westerly of three on Holy Island's remote, north coast. It is also the most exposed, taking the brunt of the waves and weather the North Sea can throw at it. The Harbour beach on Holy Island is the easiest to get to being on the shoreward side of the island. The beach itself isn't quite as pretty as the other expansive, sandy beaches in the area but there are great views of both 16th century Lindisfarne Castle and the medieval Priory.
Ross Back Sands
Sitting on this quiet beach Lindisfarne Castle on Holy Island appears tantalisingly close, but don't be tempted to walk across the flats at low tide as the tides are treacherous and fast moving. A relatively remote beach reached only on foot, the second half of the walk passing through a nature reserve.
Budle Bay at Waren Mill 
Waren Mill was once an important port given its charter in the C13th by King Henry III, though the once busy harbour has long since disappeared, silted up beneath the estuary sands. Budle Bay is a bird sanctuary and at low tide a vast expanse of mud flats is the home to countless thousands of sea and land birds. This coastal area is a haven for birdwatchers and naturalists in all seasons – especially during the winter months. The five mile walk around the bay is also interesting and offers excellent scenery
Bamburgh 
Magnificant Bamburgh Castle provides the backdrop to this long open expanse of sand which runs almost unbroken between Bamburgh and Seahouses with sand dunes and the odd rocky area popular with children looking for small crabs. The area in front of the castle is more sheltered. Best way down is to follow the small road leading towards the golf course.
Seahouses 
This is a lively seaside resort and fishing harbour and is where you can arrange a boat trip to the Farne Islands during the summer months. St Aiden's beach is arc shaped and provides excellent views of the Farne Islands – the extensive sands stretching north are backed by sand dunes and offer a peaceful and often empty beach location.
Seahouses beach south (Annstead beach)- Rocks (some fossiliferous) at north end and elsewhere at low water. Abundance of rock pools. Crossed by fresh-water burn. Backed by sand dunes which have public access despite being a local nature reserve. North end backed by a golf course.
Farne Islands 
These are rocky islands reached by boat and situated two to three miles offshore between Bamburgh and Seahouses. They form one of Britain's most important sea bird sanctuaries being home to tens of thousands of resting puffins, guillemots and kittiwakes, and in addition there is a large colony of Atlantic Grey seals. The boat trips often circle the rocks where in 1838 Grace Darling courageously rescued sailors from a ship wreck.
Beadnell 
The harbour is ancient and the only west facing port on the east coast of England. A horseshoe shaped beach known locally for a range of water sports like kayaking, wind-surfing, dingy-sailing and pony treking. Scuba-diving is also popular here due to the myriad of wrecks and treasures off the Northumberland coast.
Newton and Newton Pool 
Easily accessible by car this is a lovely and popular beach. The hamlet of Newton is almost entirely National Trust owned and includes a square right next to the sand where The Ship Inn is located and a great place for lunchtime sandwiches. Canoing and wind-surfing is also done from the beach. Newton Pool, a freshwater National Trust owned nature reserve with observation hide, is located among the sand dunes just south of Newton.
Dunstanburgh and Embleton 
A massive ruined castle dominates this lonely stretch of coastline and is reached by delightful walks along the panoramic clifftops from Craster or along Embleton Bay.
Craster 
Craster is a traditional fishing village with the Craster Tower or fort dating back to 1415. The Craster family built the present harbour in 1906 in memory of Captain Craster who was killed on active service in India, in 1904. The village is now renowned for the famous "Craster Kipper", which is delivered nationwide on a next day basis. The kippers are prepared in the traditional method of oak smoking by L.Robson & Sons.
From Craster you can take a spectacular clifftop walk to Dunstanburgh Castle ruins and back or, alternatively, a six-mile circular route.
Sugar Sands 
Two adjoining sheltered coves often overlooked by the majority of visitors to the area. As you drive into Longhoughton past St Peters & Pauls Church on the left, turn right following a narrow lane (honesty collection box at gate for local church) and park on the sand dunes.
Boulmer 
Once the haunt of smugglers this is now one of the few true fishing villages left on the Northumberland coast. It has no proper harbour and is set in a natural haven where you will see traditional fishing cobles moored in the water or hauled ashore. The local pub is the Fishing Boat Inn (FBI) and serves seafood and a view across the sea. Booking needed for evenings.
Seaton Point 
A very pleasant stretch of sandy beach running between the rocky headland south of Boulmer and a similar headland to the south before reaching Alnmouth. You can park your car on the side of a track leading from the coastal road to the beach.
Alnmouth 
A picturesque coastal village dating back to 1150 AD with a quiet sandy beach on the north side of the village. There are good bird watching opportunities along the sand dunes and estuary. The village itself is quaint with a small array of coffee shops and pubs. A beautiful rural setting away from the hustle and bustle and with plenty of bird watching opportunities along the sand dunes.
Warkworth Beach 
A small road leads off the coastal route before entering Warkworth village and takes you down to spectacular golden sands of this award winning beach. It runs northwards to Buston Links and the estuary at Alnmouth Bay. A large expanse of golden sand backed by an extensive dune system. The beach is within a mile of the historic village of Warkworth itself – a pretty village unspoilt by modern development and the main street dominated by the massive medieval keep. A stroll down the street reveals interesting shops, cafes, restaurants and pubs.
The Hermitage is a chapel, confessional and dormitory hidden by trees half a mile upstream of the castle, on the north bank of the river Coquet. It can be reached by following the footpath on the south bank until coming to a boat landing where you can hire a boat to cross.
Coquet Island RSPB Reserve 
Lying just one mile off the coast at Amble, Coquet Island is an RSPB Reserve and has been a place of sanctuary since St Cuthbert, an early Northumbrian Saint, landed here in AD684. It is a safe haven for over 30,000 pairs of seabirds, some who travel from Africa to nest on the island. Species include the roseate tern, the UK's rarest breeding seabird and declining globally. 80 pairs nest here and represent over 90% of the UK population. Thousands of puffins arrive March/April and nest underground often in old rabbit burrows, each rearing a single puffling. A boat trip around the island can be arranged from Amble.
Druridge Bay 
Long sweeping open sands fringed with dunes. Ladyburn Lake in the adjacent Country Park provides facilities for windsurfing and dingy sailing.
Stay Updated
Receive news and updates directly to your inbox.