Golf Courses in North Northumberland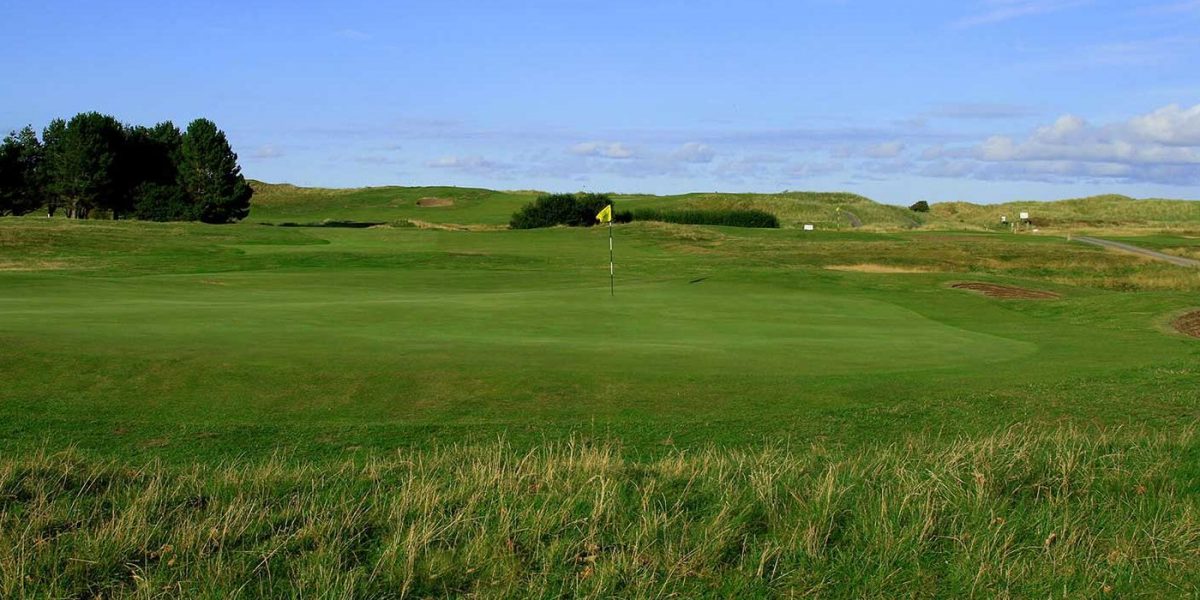 We are lucky to have a wide selection of golf courses within fifteen to thirty minutes drive. There are several golf courses nearby with a selection large enough to make Cheviot an ideal location for a golfing holiday in Northumberland.
Alnmouth Golf Course 
18 holes, 6007 yards, par 69
Foxton Hall, Alnmouth
Telephone 01665 830231
Set in Foxton Bay five miles east of Alnwick, this is a challenging meadow land course with an excellent layout and panoramic views. Set in Foxton Bay. It is understood to be one of the oldest in England dating back to 1869.
Alnmouth Village Golf Course 
9 holes, 5654 yards, par 71
Marine Road, Alnmouth
Telephone 01665 830370
A fine nine-hole links course having one hill and offering outstanding views from the 7th. Located 5 miles east of Alnwick
Alnwick Golf Course 
18 holes, 6250 yards, par 70
Swansfield Park Road, Alnwick
Telephone 01665 602632
Mature parkland course on periphery of Alnwick town which was established in 1907 and extended to 18 holes in 1995.
Bamburgh Castle Golf Club 
18 holes, 5621 yards, par 68
The Wynding, Bamburgh
Telephone 01668 214378 / 01668 214321
North Northumberland coastal course built in 1904 offering superb views of Lindisfarne, the Farne Islands and Cheviot Hills.
The Belford 
9 holes, 6304 yards, par 72
South Road, Belford
Telephone 01668 213232
Opened as a nine-hole course in 1993, dozens of new trees have been added together with nine new tee boxes allowing golfers wishing to play a full eighteen holes to play each hole from two different angles. Located to north-east edge of Belford village, just off the A1 between Berwick-upon-Tweed and Alnwick.
Burgham Park Golf Course 
18 holes 7065 yards Par 72
Near Felton, Morpeth
Telephone 01670 787898
Maturing championship parklands course with water hazards and set in Northumbrian countryside west of the A1 between Alnwick and Morpeth.
Dunstanburgh Castle Golf Course 
18 holes, 6298 yards, par 70
Embleton
Telephone 01665 576562
Traditional links course at Embleton bay founded in 1900 and updated in 1922. It is situated in the beautiful scenery of Northumberland's Heritage Coastline and in the shadow of the historic ruins of Dunstanburgh Castle.
Goswick Golf Club 
18 holes, 6452 yards, par 72
5 miles south of Berwick-upon-Tweed
Telephone 01289 387256
Traditional seaside links course founded 1890 and extended in 1894.
Linden Hall Golf Course 
18 holes, 6846 yards, par 72
Linden Hall Hotel and Golf Course, Longhorsley, Morpeth
Telephone 01670 516611
Opened in 1998, this maturing course winds its way through wooded parkland with enormous redwoods, monkey puzzles, rhododendrons and lakes.
Rothbury Golf Course 
18 holes, 6160 yards, par 71
Whitton Bank Road, Rothbury
Telephone 01669 621271
Very recently extended to 18 holes and a brand new clubhouse built, this picturesque course, part sloping and part level, is positioned in the heart of the Coquet valley and close to historic Rothbury village.
Seahouses Golf Course 
18 holes, 5516 yards, par 67
On the southern periphery of Seahouses
Telephone 01665 720794
Traditional flat links course on the Northumberland Coast Area of Outstanding Natural Beauty. Founded as a 9-hole course in 1913 and upgraded to 18 holes in 1976 it has spectacular views of the coastline from Bamburgh to Beadnell and out to the Farne islands.
Swarland Hall Golf Course 
18 holes, 6335 yards, par 72
Swarland, near Felton
Telephone 01670 787010
A new parkland course established in 1993. It has undulating fairways fringed by woodland and has good views of the Simonside and Cheviot Hills.
Warkworth Golf Course
9 holes, 5986 yards, par 70
Warkworth
Telephone 01665 711596
Fairly flat oval seaside links course formed in 1891 at historic Warkworth village. There are 18 tees for those preferring a full round.
Wooler Golf Course 
9 holes, 6358 yards, par 72
Dod Law, Doddington, Wooler
Telephone 01668 282135
Elevated course with superb views to the Cheviot Hills and located at Doddington north of Wooler.
Stay Updated
Receive news and updates directly to your inbox.